About EuLF
Since 2000, the European Legal Forum (EuLF) has regularly provided information about developments in various areas of the European ius commune. Special emphasis is placed on private international law and European and international civil procedure, commercial and company law, family law and successions, consumer law and labour law. The EuLF is directed at an international readership and provides researchers and legal practitioners with in-depth information on current developments in case law and legislation. Each volume of the EuLF also includes a section of book reviews.
The journal is linked to the online portal unalex, which allows direct online access to the case law cited therein.
From next year, the EuLF will also be published online. It will be accompanied by a new concept of National Editorial Boards, where the plan is to publish content in languages other than English with a view to reporting back interesting information, briefly summarised, to the main, English journal. More information available shortly!
Member State where published
DE
Publishing language of the print edition:
EN
Publication
5 - 6 issues per year
Editors-in-chief
Thomas Simons
Rainer Hausmann
Sibylle Calabresi-Scholz
Editorial Office
Martiusstrasse 1
D-80802 Munich
Germany
Tel: +49 89 337332
Fax: +49 89 337333
Publisher
IPR Verlag, Munich
Email
Editorial Board
Alegría Borrás, Barcelona (ES)
Sabine Corneloup, Dijon (FR)
Peter Hay, Atlanta (USA)
Peter Kindler, Munich (DE)
Ilaria Queirolo, Genoa (IT)
Monika Pauknerová, Prag (CZ)
Andreas Schwartze, Innsbruck (AT)
Mathijs ten Wolde, Groningen (NL)
Submission and Citation
Manuscripts to be published in the European Legal Forum (print edition in English only) can be submitted via email to redaktion@unalex.eu. All manuscripts submitted must be the original work of the author. The authors guarantee that their manuscripts express exclusively the personal views of the author and they bear full responsibility for the statements and opinions contained therein.
All manuscripts published in the EuLF are subject to peer review. The review process is based on the double-blind peer-review principle.
Additional information for authors, including, inter alia, guidelines on correction policy, publication ethics, details of the citation style and formatting, as well as copyright and licensing information are available in the document entitled "Information for authors".

Call for papers!
The EuLF is published 5-6 times a year. Authors are invited to submit on a rolling basis unpublished papers in the legal areas of Private International Law and International Civil Procedure, International and European Commercial and Company Law, International and European Business and Competition Law, International and European Intellectual Property Law, European Consumer Law, International and European Labour Law, Law of the European Organisations, as well as on the European Legal Profession itself.
Submissions should not exceed 10000 words (including footnotes). In exceptional cases longer works may also be accepted. All details concerning the submission procedure and required formatting and citation style are contained in the documents listed above.
Please send manuscripts to redaktion@unalex.eu.
Current Issue
Dear Readers, please click here for information on the most recent issue.
Current and Past Issues
The European Legal Forum is published in print (English edition). Additionally, the journal is partly published in several languages online on the portal unalex.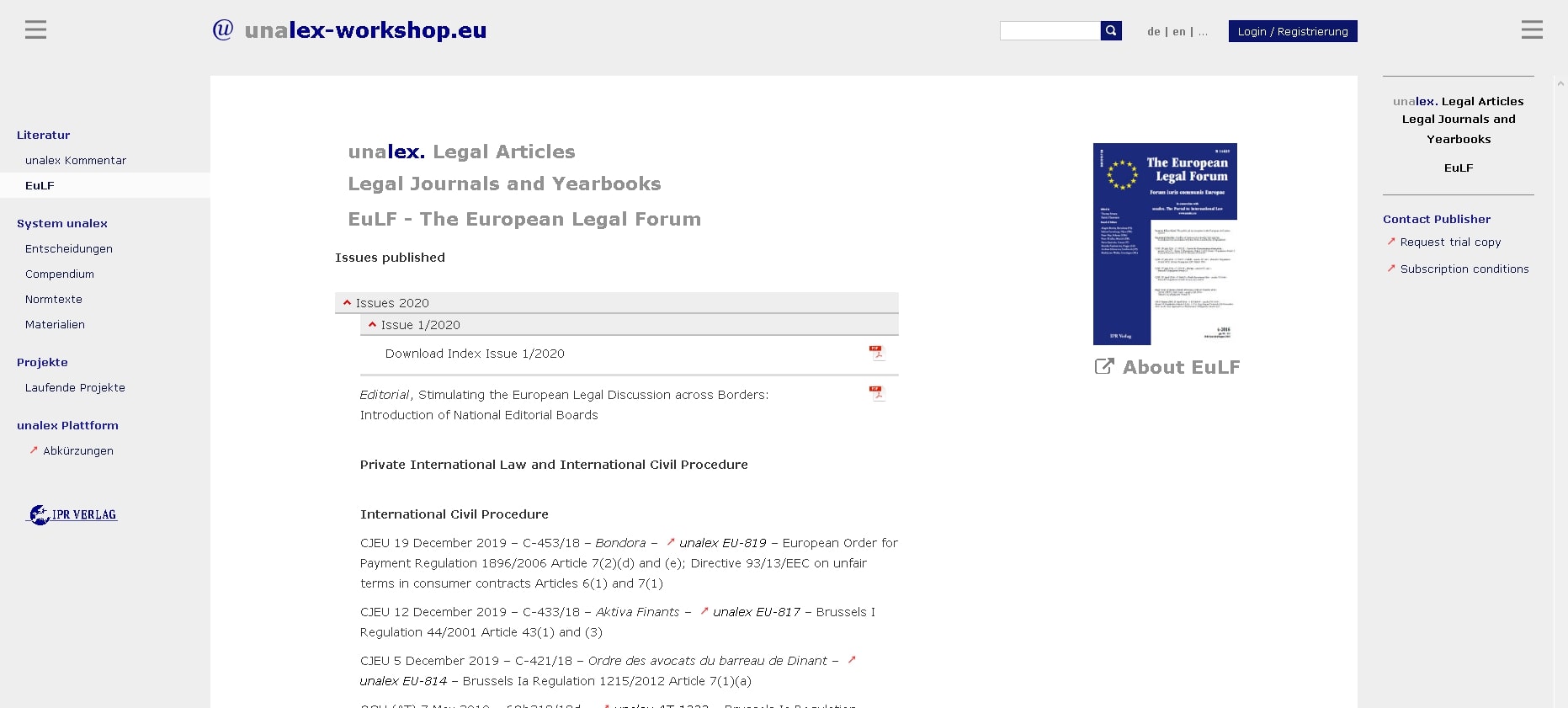 Information on the content of current and past issues are available here.
Order Information
Current and past issues of the European Legal Forum (EuLF) can be ordered directly from the publishing house by email: service@unalex.eu or using the contact form.
For subscriptions, please use the online registration form or fill out the following PDF form.

Annual subscription rates (incl. postage & handling):
Europe:
EUR 165
worldwide:
US$ 225
Single copies:
Europe:
EUR 35
worldwide:
US$ 40
Agency discounts are available upon request. Please contact us:
Subscription terms and conditions:
The subscription year is the calendar year. Subscription cancellation notice: one month to the end of the year.
The journal includes 5 to 6 printed issues per year.
Free copy:
If you would like to order a free trial copy please click here or send an email to service@unalex.eu